The Canadian Prime Minister says he favours the law being set to allow the drug to be used legally from the age of 18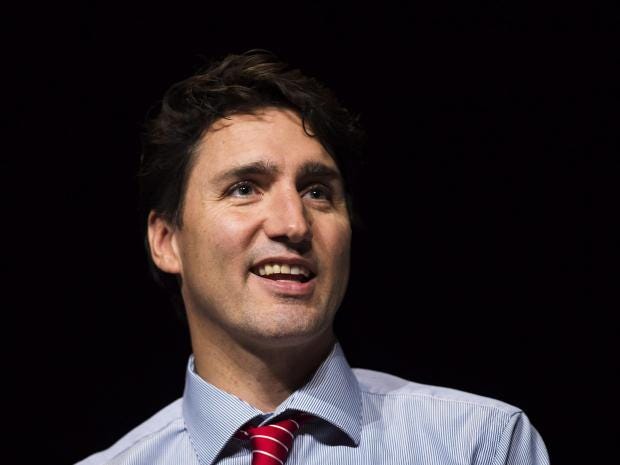 Justin Trudeau has promised to make cannabis use legal for adults by July 2018 Rex
Canadian Prime Minister Justin Trudeau's government will publish draft legislation on the legalisation of marijuana later this week.
Under the new rules which will fulfil an election campaign pledge made by the Liberal Party, citizens will be able to carry up to 30 grams of the drug, according to CBC News.
But there will likely be a debate on the age at which it will be legal to buy cannabis.
Mr Trudeau has previously said he favours the law being set to allow the drug to be used legally from the age of 18.
However, Conservative politicians have joined forces with the Canadian Medical Association to propose it be set at 21. They highlight evidence showing cannabis can damage brain development up to the age of 25.
As a compromise, the plans could allow each Canadian province to set the age of lawful cannabis consumption in line with the legal age for drinking alcohol.
"I think the proposal for the age of 18, or 19 in some provinces, to align with the [legal drinking age] across the country, is a reasonable compromise," Mr Trudeau said last December.
"We know the largest misdeeds of marijuana use happens at a lower age than 18, 19 years of age, and I think this is a responsible approach that we have found in terms of balance that is both practical and useful."
Where cannabis is and isn't legal
The Canadian Association of Chiefs of Police is also asking the government to back down on plans to allow people to grow the drug at home, saying it would put too much of a burden on law enforcement officials.
A government taskforce on the issue had suggested setting the limit at four plants per home and limiting the height of each plant to 100 centimetres in a bid to reduce fire risks.
Police have warned Canadians that, for now, using cannabis remains illegal and they will continue to clamp down on those breaking the law.
The country has one of the highest rates of cannabis use among young people, leading government ministers to argue that criminalising the drug has not been effective.
"As we legalise cannabis and make a decision about what age it can be accessed, we know that regardless of the age of the person consuming, that it is a product that has potential risk associated with it," Jane Philpott, the Health Minister, told
The Toronto Star
. "That's why we are taking a public health approach with a strong focus on public education."
She added: "This is a way of responding to the reality of the fact that rates of use are extremely high in young people and we need to take an approach that acknowledges public health, acknowledges the approach of criminalization has not deterred young people from using it."