Deceptive invite to edit a Google Doc appeared to be spreading rapidly, and users were taken to a legitimate Google sign-in screen if they clicked it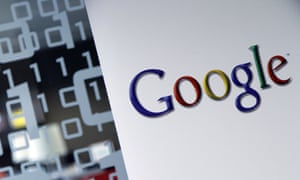 Google encouraged users to report the email as phishing within Gmail. Photograph: Virginia Mayo/AP
Wednesday 3 May 2017 21.50 BST Last modified on Wednesday 3 May 2017 22.27 BST
A
Google
Docs scam that appears to be widespread began landing in users' inboxes on Wednesday in what seemed to be a sophisticated phishing or malware attack.
The deceptive invitation to edit a Google Doc – the popular app used for writing and sharing files – appeared to be spreading rapidly, with a subject line stating a contact "has shared a document on Google Docs with you". If users click the "Open in Docs" button in the email, it takes them to a legitimate
Google sign-in screen
that asks to "continue in Google Docs".
Clicking on that link grants permission to a bogus third-party app to possibly access contacts and email, which could allow the spam to spread to additional contacts.
Google has said it is
aware
of the issue and
investigating
it. The company encouraged users to report the email as phishing within Gmail.
"We have taken action to protect users against an email impersonating Google Docs, and have disabled offending accounts," a spokesperson said in a statement. "We've removed the fake pages, pushed updates through
Safe Browsing
, and our abuse team is working to prevent this kind of spoofing from happening again."
The company did not immediately respond to requests for comment on how many people had been affected by the attack and where it may have originated.
Numerous journalists
have reported receiving the phishing email, including multiple Guardian reporters. One message to the Guardian came from a maryland.gov account associated with law enforcement and was addressed to "
hhhhhhhhhhhhhhhh@mailinator.com
", and blind-copied the reporter. Reporters at BuzzFeed, Hearst, New York Magazine, Vice and Gizmodo Media have
also reported receiving the scam
.
Phishing scams
typically involve
emails, ads or websites that appear to be real and ask for personal information, such as usernames, passwords, social security numbers, bank account data or birthdays. Google says it does not send out emails asking for this type of data and encourages users not to click on any links and to report suspicious messages.
As the
Verge noted
, Wednesday's attack seemed to be more advanced than standard email phishing scams, because it doesn't simply take users to a bogus Google page to collect a password, but instead is working within Google's system with a third-party web app that has a deceptive name.
If users have already granted permission through the phishing email, they can
go to their settings
and
revoke the app
.